Product image 1
Product image 2
Product image 3
Product image 4
Balanced Bites Spices Organic GREEK spice blend
PALEO | KETO | 21DSD | NIGHTSHADE-FREE
1.9 ounces, 55 grams | Dual Shaker/Spoon cap
Simple, but perfect! GREEK blend combines the flavors Greek people know are the ultimate: oregano, lemon, and garlic. This blend works well on just about everything, but we especially love it on eggs, lamb, chicken, and oven roasted potatoes. Try adding some GREEK blend along with ITALIAN blend the next time you're making an Italian dish, we bet you'll love the combination! 
Ingredients: granulated garlic*, sea salt, oregano*, lemon zest*, black pepper*. *Certified Organic
This blend is:
PALEO
21-DAY SUGAR DETOX-FRIENDLY
NIGHTSHADE-FREE
KETO 
Find us on Instagram @balancedbites and #balancedbites
Customer Reviews
Write a Review
Ask a Question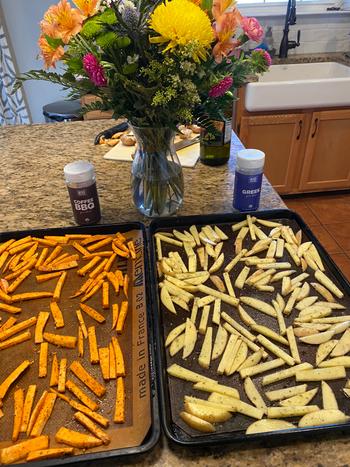 03/29/2020
Great on...everything!
I just bought the Greek blend about a week or so ago and it's quickly become a favorite in my house. We first had it on grilled chicken thighs, which my daughter in particular loved. Next, we jazzed up some baked oven fries (as seen in the picture). Really versatile spice and my new go-to.
Lindsay G.
United States
08/05/2020
Don't ever want to run out of this again!
I was running low on a few of our staple Balanced Bites spices but when I actually ran out of the Greek spice blend I immediately got online to place an order for more. My favorite spice for grilling chicken! And if you don't know how to grill chicken search Diane's instagram or website asap, it's so easy and delicious!
Anna B.
United States
07/17/2020
Delish!
Just received my Greek spice blend and it's absolutely delish! Brings your food to a whole other level! Will be ordering this again for sure!
KAthleen C.
United States
04/15/2020
I can't get enough of this blend
This started out as one of my favorites and I was using it in my fritattas. Now I use it on so much. The flavors are so good!
Laura G.
United States
04/13/2020
Perfect!
Delicious! I have used this on roasted chicken and potatoes and we love it!
Heather L.
United States