Balanced Bites Spices Organic RANCH spice blend
PALEO | KETO | 21DSD | NIGHTSHADE-FREE

This item includes 2 bags.
Each bag contains .85 ounce | 24.1 grams
A combined total of 1.7 ounces | 48.2 grams
IMPORTANT: These two bags together will refill our new, regular-sized jars ONE TIME. Each bag will fill about 1/2 of the regular jar. If you are looking to fully refill our previously sold large jars, you will need two bundles of refill bags.
---
Balanced Bites Spices Organic SUPER GARLIC spice blend
PALEO | KETO | 21DSD | NIGHTSHADE-FREE

When you aren't sure which blend to use, SUPER GARLIC is your flavor super hero! Get maximum flavor into your food with our garlic-in-all-forms blend. Especially amazing on grilled chicken, broiled fish,  or mixed into meatballs, this blend will transform anything into the best thing you ever ate. Try it on potatoes, fish, pork, eggs, and more! Combine it with RANCH blend for an extra garlic-y dressing!
This blend is featured in recipes throughout The 21-Day Sugar Detox Daily Guide.
Ingredients: garlic flakes*, granulated garlic*, sea salt, chives*. *Certified Organic
This blend is:
PALEO
21DSD-FRIENDLY / SUGAR-FREE
NIGHTSHADE-FREE
KETO
Find us on Instagram @balancedbites and #balancedbites
Customer Reviews
Write a Review
Ask a Question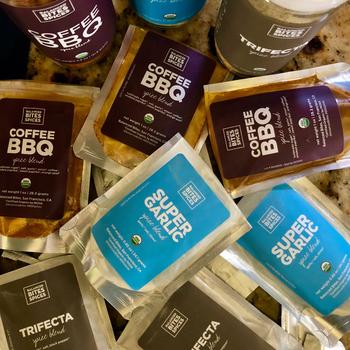 07/09/2020
Fairy dust for food.
Delicious. My only hesitation would be that I should have probably ordered more than two refills! This spice makes all savory recipes better.
Elizabeth C.
United States
07/20/2020
My favorite flavor!
I love all the "super" blends but especially "super garlic". It's just fabulous on everything.
Vera S.
United States
06/29/2020
So f**king good
next to coffee bbq super garlic it amazing absolutely love it
Maryanne A.
United States
05/25/2020
You can't go wrong
Tastes and smells amazing!
Laura G.
United States