Balanced Bites Spices Organic SUPER GARLIC spice blend
PALEO | KETO | 21DSD | NIGHTSHADE-FREE
NEW SIZE - This bag holds 2x what our previous refill bags held.
Each bag contains 2 ounces of the spice blend and will refill our regular-sized jar one time. If you are looking to fully refill our previously sold LARGE jars, you will need two of these refill bags.
Note that the chives float to the outside of the bag, so this in-bag photo depiction makes it difficult to see the full blend.
For those of you who have been following along with our phased refill packaging journey, this is "phase 2" packaging for this blend in particular. Some blends may move right to our "phase 3/final" packaging once the current 2-pack bundles are gone. Due to COVID, we've had to use some interim solutions for these refills, and I appreciate your patience and understanding on the mix-matched bag styles.
---
When you aren't sure which blend to use, SUPER GARLIC is your flavor super hero! Get maximum flavor into your food with our garlic-in-all-forms blend. Especially amazing on grilled chicken, broiled fish,  or mixed into meatballs, this blend will transform anything into the best thing you ever ate. Try it on potatoes, fish, pork, eggs, and more! Combine it with RANCH blend for an extra garlic-y dressing!
This blend is featured in recipes throughout The 21-Day Sugar Detox Daily Guide.
Ingredients: garlic flakes*, granulated garlic*, sea salt, chives*. *Certified Organic
This blend is:
PALEO
KETO
21-DAY SUGAR DETOX-FRIENDLY
NIGHTSHADE-FREE

Find us on Instagram @balancedbites and #balancedbites 
Customer Reviews
Write a Review
Ask a Question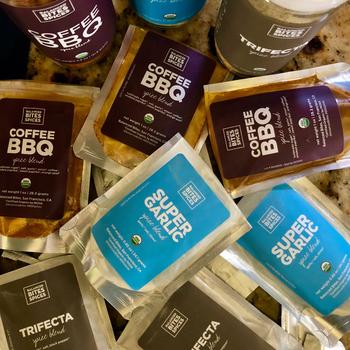 07/09/2020
Fairy dust for food.
Delicious. My only hesitation would be that I should have probably ordered more than two refills! This spice makes all savory recipes better.
Elizabeth C.
United States
10/02/2020
Put this on/in everything.
Add this spice to your life. Literally every meal tastes better using this spice. Okay, maybe not ice cream. But everything else.
Elizabeth C.
United States
08/31/2020
Economical & Sustainable!
I love this approach as it is both economical and sustainable! Win win. Also, this blend is my FAVORITE! I'll be ordering this refill with my regular Jar order since we go through this one quicker than any other! I never want to run out!
Brooke L.
United States
07/20/2020
My favorite flavor!
I love all the "super" blends but especially "super garlic". It's just fabulous on everything.
Vera S.
United States
06/29/2020
So f**king good
next to coffee bbq super garlic it amazing absolutely love it
Maryanne A.
United States