SUPER TRIFECTA Spice Blend
Product image 1
Product image 2
Product image 3
Product image 4
Balanced Bites Spices Organic SUPER TRIFECTA spice blend (LIMITED EDITION)
PALEO | KETO | 21DSD | NIGHTSHADE-FREE
3.35ounces, 95 grams | Dual Shaker/Spoon cap
A spin on one of our best-selling blends, SUPER TRIFECTA is all about next-level flavor with this SUPER-sized version. The perfect blend of garlic, salt, and pepper – this time, big flakes of garlic and salt and chunky cracked black pepper. Sprinkle it into any dish you're cooking or use it as a pinch-able finisher for salads, pasta, eggs, entrees, and more.
Ingredients: garlic flakes*, granulated garlic*, sea salt, black pepper*. *Certified Organic
This blend is:
PALEO
21-DAY SUGAR DETOX-FRIENDLY
NIGHTSHADE-FREE
KETO
$1 from the sale of this Limited Edition Blend will be donated to the NAACP.
Buy it as a 3-pack with our 2 other SUPER blends here.
Find us on Instagram @balancedbites and #balancedbites 
Customer Reviews
Write a Review
Ask a Question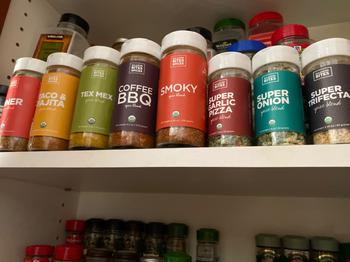 06/09/2020
Great addition to my spice rack
These are awesome. I love them in veggies and meat sauce.
Tanya H.
United States
07/25/2020
These are a must have and a game changer
As someone who regularly cooks and suffers from many dietary restrictions, these spices are game changing! I've made my own blends etc but nothing compares to these! The super trifecta is hands down my favorite thing ever! Super Garlic pizza is a close second! But these seasonings truly transform your cooking! If you don't have them, I highly recommend and also recommend Diane's practical Paleo book. I'm not strictly Paleo but her recipes are super easy and extremely tasty! It doesn't take much thought or prep! Do yourself a favor and buy these spices!
Jaclyn
United States
07/22/2020
A NEW ADDITION TO MY KITCHEN!!
I think this seasoning mixture is absolutely delicious! It arrived yesterday (7/21/20) and I have put it on almost everything from boiled eggs to baked fish. Worth every dollar!!!
Cassandra W.
United States
07/12/2020
PURE GOLD
This stuff is literal pure gold. I liked the regular trifecta but I LOVE this blend, something about the bigger pieces of spice make it sooooo amazing. You'd be crazy not to purchase this, it's THAT GOOD!!!!! Thanks to Diane for putting out a quality product.
Erica
United States
06/25/2020
even better than the original
if Trifecta could get better, it DID!!
Tara G.
United States